Lauren and Martina G11 
It is the beginning and the end. On September 1, BCOS welcomed another group of new members. I'm sure you are full of enthusiasm and are looking forward to your lives in BCOS, right? But you may also be confused: how can you quickly adapt to the unfamiliar English-only environment and find a way to achieve success among the crowd of students? Don't worry, this article will take you on a journey to find out what you need to do. 
  How to win in an unfamiliar learning environment? 
1. You need to have patience in your studies. Mr. Hughes said, "Learning English is a long and difficult journey, and we need to learn day by day in order to succeed." 
2. Don't be shy, come on, try it! Don't be shy, in BCOS classes, just go ahead, try, and ask questions. The teachers will be very patient when they answer questions, and you will definitely benefit a lot after talking with them. 
3.Remember that you are not alone, and as Mr. O'ryan said, "the hardest thing when you are in trouble is when you think you can only solve it by yourself." When you are facing difficulties, you can discuss with your classmates and ask your teachers for help. In BCOS class, there is no "solitary fight", there is only cohesion in the whole school. 
4.Make a plan for your studies. It is very important for you to learn self-discipline in BCOS, so that you can finish the important things first and avoid the painful rush to finish your homework before the deadline. 
5. Pre-learning is a good way to help you understand the content, and you earn yourself more time to solve problems you encounter in the pre-learning. This has been testified by students in G11 and G12 with remarkable feedback. 
6. Prepare a vocabulary notebook on which you can write down the new words that you come across in your daily life. This makes your vocabulary richer, which is also crucial in the study of BCOS. 
7. Don't sleep or eat in class, because you will not only miss key points but also get other penalties. 
8. Before handing in your homework, you can ask the teacher if you are not sure whether it is qualified. Remember, this is a technique to improve your grades. 
9. Always remember to save your files when writing assignments and keep your USB properly, unless you want to enjoy the pain of rewriting your assignments…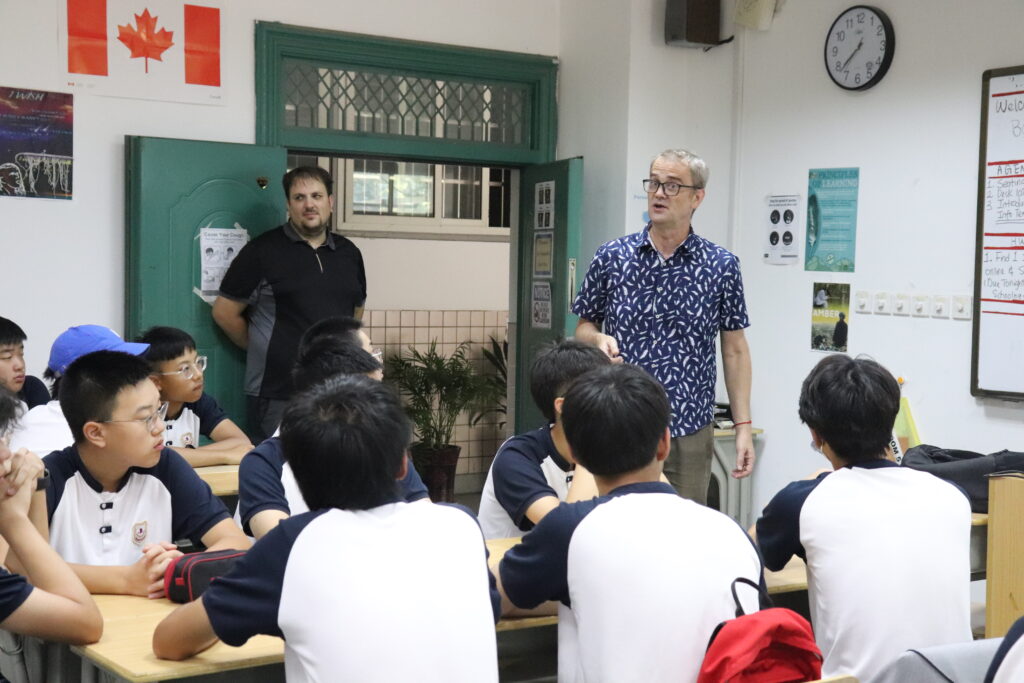 How to deal with extracurricular activities? 
1. Be active and be brave to try. You are encouraged to explore and enjoy your potential, and find your own "place" in BCOS. 
2. Choose a club that you are good at and interested in. Because these classes can continue for a whole year and some students will get bored and tired of them at the very end if it doesn't fit in their interests. 
3. Don't be shy and be willing to present your ideas during group discussions, as this can help boost your confidence and presentation skills in the future. 
4. Be bold to make the best of your wild imagination and communicate with the teacher actively. There are numerous opportunities for students to express themselves in BCOS. Students can participate in many interesting activities, such as drawing on blackboards and designing cultural shirts for our school. 
Be yourself! 
1. Respecting yourself and respecting others is the most important thing. You must listen attentively when others speak and respect our learning environment even more. Because we are in a walk-in class, you must take your garbage away when you leave. 
2. At the same time, you need to enhance your leadership skills. This can greatly improve your personal skills while enhancing your cooperative nature in a group. 
3.Be sure to keep your belongings well, especially your notes and assignments, which may be a lifesaver in the night before the exam. 
4. You also need to keep a positive mindset, combine work and rest well, and deal with all kinds of unexpected events that will happen in your studies. Face the ups and downs of your grades with a constructive attitude.  
5. Get along with your classmates and be friendly, solve problems rationally when you encounter conflicts, and learn to think more about others. Three years is short, so we must cherish the time we spend with our classmates.
  Speak up: 
1. In BC time, Chinese is "forbidden". You will have to use English and always "watch out" for teachers who show up unannounced. So, the best way to stop losing your cards is to make speaking English a habit. 
2. "How to get a CC card" is certainly a popular topic. There are many ways to get a CC card, such as getting a perfect score on a test, helping teachers complete daily challenges, and doing exercises. 
You may be at a loss because you have to use English, or you may be frustrated because your card has been deducted for using Chinese. However, after all this hard work, when you look back, you see how greatly your English has improved. 
Have you gotten all the "survival rules in BCOS"? Please take them with you and put them into practice. I hope you can have more success and fewer mistakes on the road to success.