Grade 10:
Elisa Gu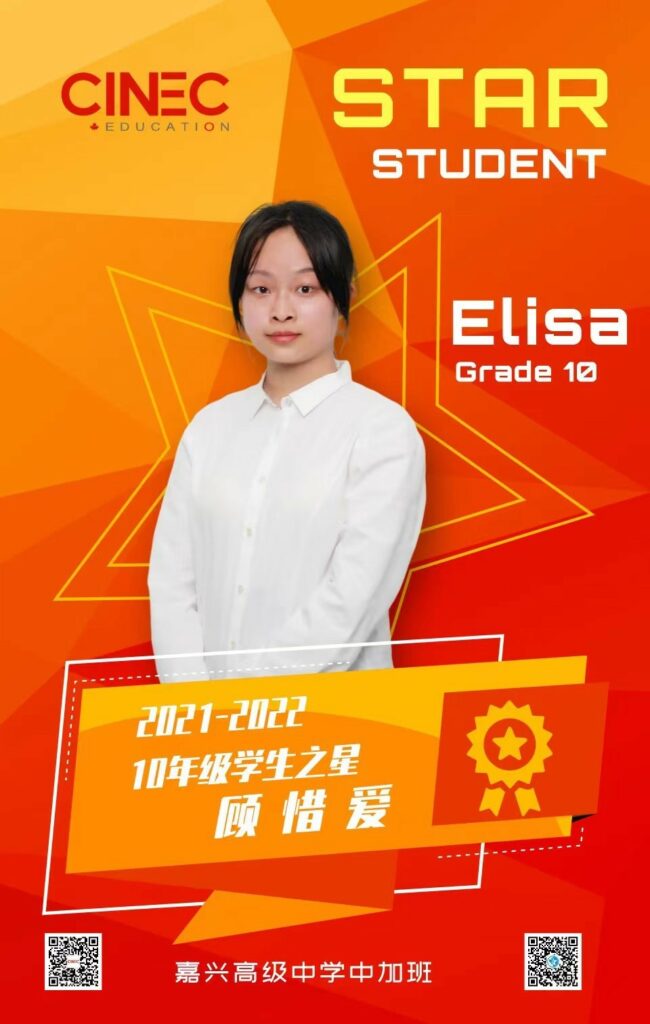 As one of the recipients of the Principal's List, Elisa also received the super G, Honour Roll, and Top Mark in New Media course award. She actively participated in group projects and performed exceptionally in filming and editing the production in the school Film Festival, in which her team received favourable reviews. In her spare time, Elisa is a member of a reading group for TOEFL. She also participates in AMC, makes donation for UNICEF, enjoys playing badminton and basketball with friends, and takes part in Frisbee matches. 
Niki He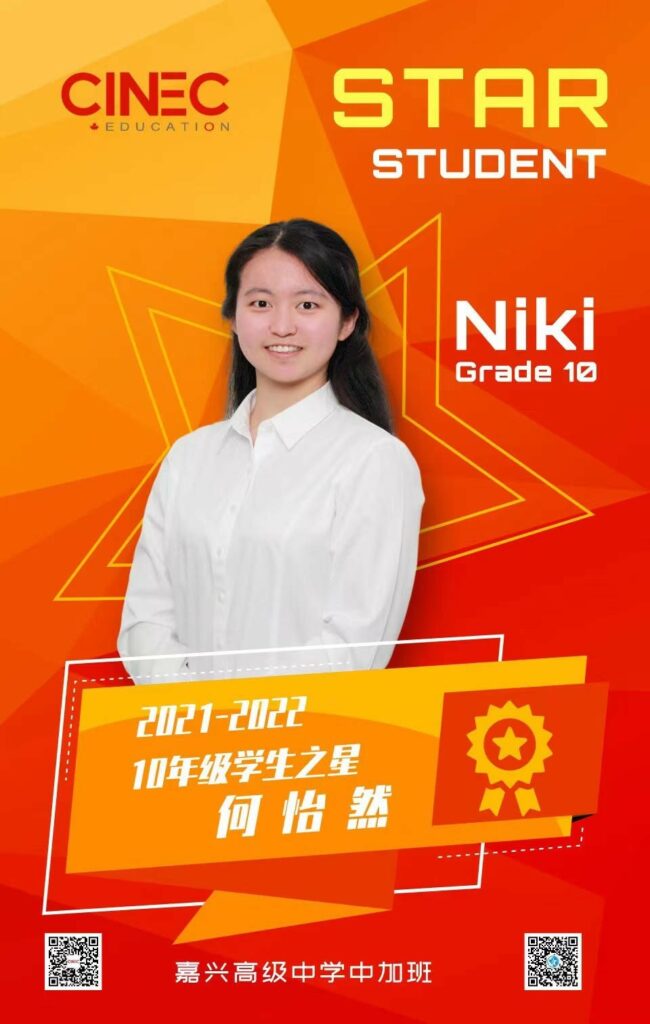 With her extensive volunteering experience, Niki is applying what she learned in real life. Being a teen member of the Jiaxing Volunteer Association, she has worked 47 hours there and took sign language training classes. In the meantime, Niki also works as an online volunteer for the WHO and volunteered online at the 2022 Winter Olympic Games. As a ballet dancer, she has gained the level 8 (the highest grade) certificate, while as an amateur broadcaster and host, she is also taking courses outside school. As a young leader in the school, she took charge in designing their speak-up team's newspaper fashion show, drama presentation, brochure production, and movie trailer. 
Grade 11:
Joan Zhou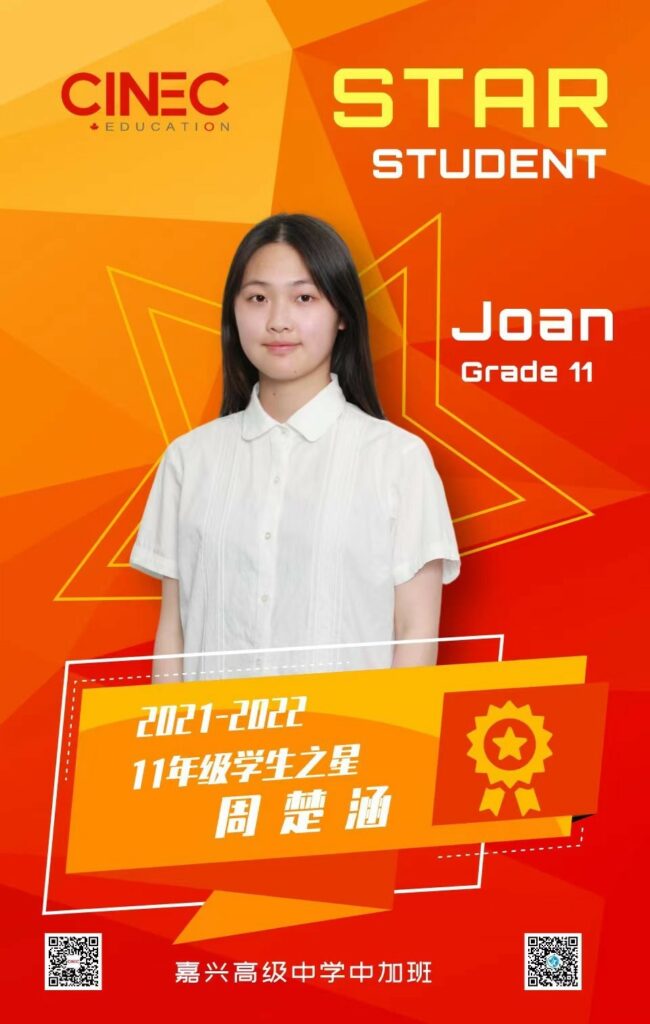 While taking lead in the Black Widow group, Joan has become more responsible and organized. Innovative and artistically talented, Joan won first place in the past Science Fair and singing competition. In addition to achieving high grades in all BC and Chinese courses, she is also making progress in a series of extracurricular activities like reading, movie watching, and running. 
Martin Gui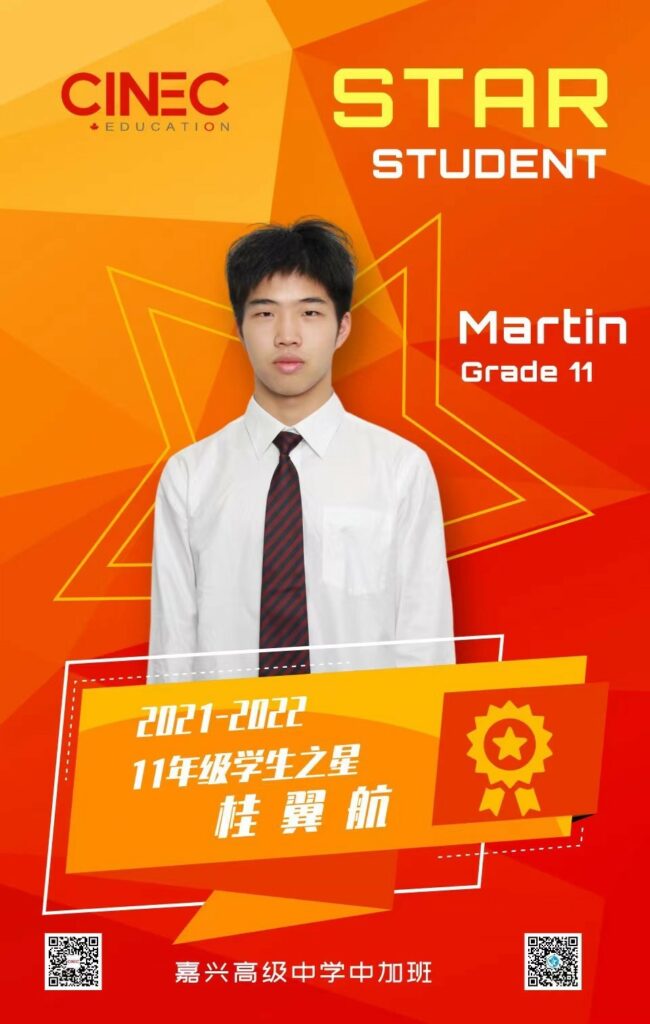 Gaining remarkable grades in all BC and Chinese courses, Martin stood out exceptionally in Composition with the highest mark in class. He has also engaged actively in various physics experiments and projects, from sharing ideas with group members to preparing the experiment site. Martin's contrition has also been recognized in the latest Film Festival and his speak-up team, for which he made the poster for the team's film. 
Grade 12:
Jim Jin
Jim has exhibited a positive outlook and attitude both in class and extracurricular activities. Apart from having a 98% average in all BC and Chinese courses, Jim is also the leader of the Narwals, where he developed excellent leadership and teamwork skills. Jim also shows enthusiasm in engineering. He worked as an intern in a GPS antenna company and has advanced his 3D modelling skills by watching tutorials and trying to make his own rocket engine. 
Vincent Bao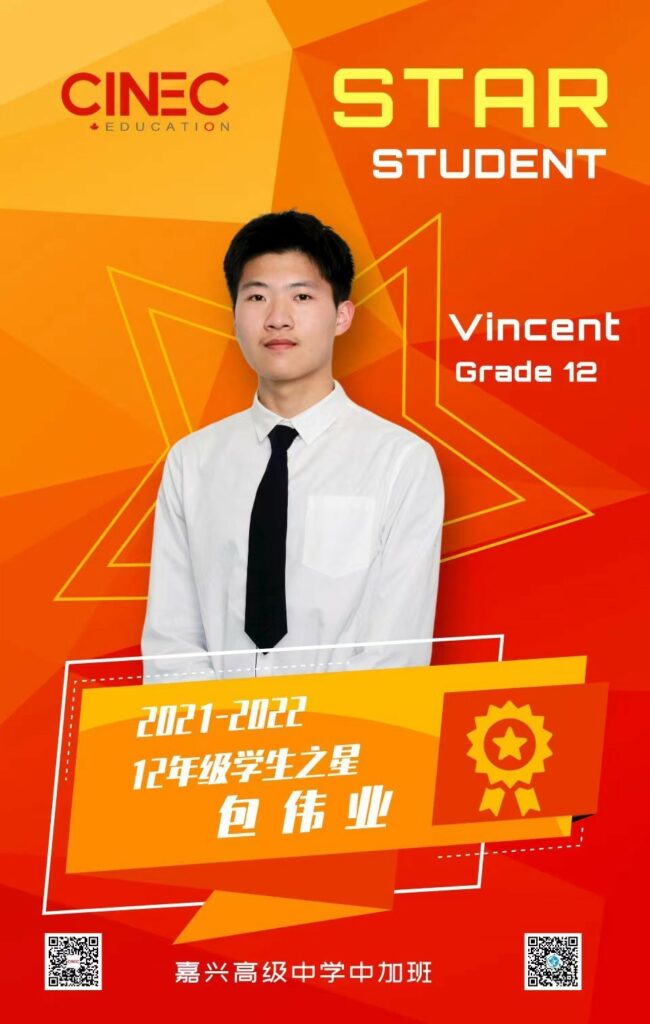 Before the interview invitation from Oxford and offer from UCL, Vincent had been working hard and is known as a key member in the study group and the class monitor. In the last Drama Festival, he helped to finalize the scripts and participated as an actor. Vincent was among one of the 10 Best Singers of the school, while he also has keen interest in guitar and basketball.