Written by Gr. 11 Fiona  Translated by: Gr. 11 Vincent 
A member of the journalism club accidentally found out that her friend, who was attending the same art class at Jiaxing Senior High School, turned out to be an uploader on Bilibili. After that, the journalists immediately launched an investigation and unearthed some treasures, namely, social media stars at Jiaxing BCOS. They made accounts on various social media platforms to upload their work and did a really great job. Some students have tens of thousands of followers and have built their own fan bases! If you're interested in their experiences, keep reading!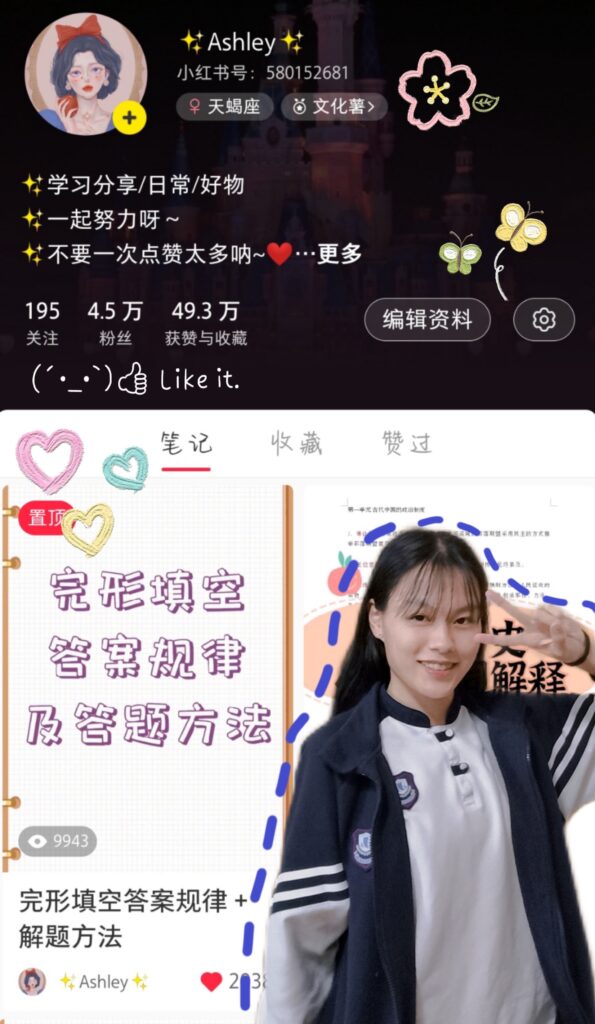 Tina is a senior user of Xiaohongshu. Since 2019, she has tried to start her social media business, and Xiaohongshu has become like a home for her. After about a year and a half of hard work, Tina has gained 45,000 followers. It's not easy for a high school student to reach such numbers. All of her achievements are inseparable from her efforts. It all started during her IELTS studies in the summer of 2019. Tina's IELTS teacher printed out a lot of vocabulary sheets for her. Then she had an idea: "Why not just sort out these useful words and post them online for everyone to learn together?" Soon Tina went from casually sharing some English vocabulary to organizing materials for different subjects. More and more people started to give likes, comments and subscriptions to her channel, and fans of Xiaohongshu gave her social media account a boost. In the interview, she said, "I found that a large part of my life focus is given to this 'job'. Although I am not a very professional learning blogger, I have to filter and edit every piece of material for a long time before I share it to ensure quality. On the other hand, through contact promotion, you can achieve financial independence." Tina also encouraged those students who like social media and shared some experience with them: "Social media can take many forms: a video, a few pictures, a dry text. Anything can become a topic; unique topics definitely attract more viewers!"
In addition to Tina, Smith in grade 11 is also registered on Bilibili as an uploader in 2019. According to Smith, he is purely interested in uploading videos to Bilibili. He didn't regard being an uploader as his job, however, because of his interest, he has been uploading videos for two years. In junior high school, he was influenced by his classmates and decided to try to edit videos. From a small game video to some interesting videos liked by users on Youtube and Twitter, his business skills are becoming increasingly proficient. Half-jokingly, Smith said, "Instead of using a powder absorption strategy to make a video, I will try to rub heat, but for most of the time I will just let it be…" Making videos enriches his life and brings him a lot of happiness. Besides, Smith has a good balance between school learning and his own interests and he is a recognized as a scholar-tyrant at our school. Finally, he wants to remind you here that you had better not think of making a video unless you have ample ability in your subjects at school, or else it will really affect your ability to study!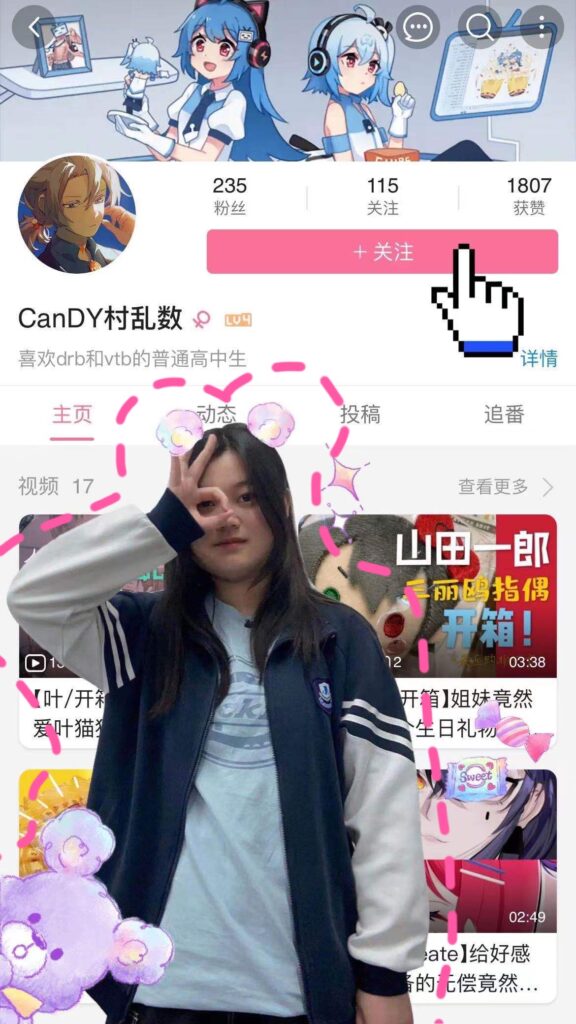 At school, Smith often gets a lot of "reminders", a large part of which comes from a lovely and cheerful girl, Kate, who also created a Bilibili account last year. In fact, as early as 2016, she had started to make social media plans. During the epidemic, she stayed at home and finally had some free time to make her favourite videos. The content of her videos include painting, games and some sharing of her campus life. Gradually, Kate began to pay more attention to the interesting things in her life and made them into videos to share with all of her friends online. During this period, Kate's painting skills have also significantly improved. She and Smith are good friends with a common interest, and they often urge each other to improve together.
The existence of these students makes Jiaxing Senior High School more colourful and diversified. They bravely try different fields and actively use the convenience brought by modern high-tech society. They have super creativity, execution and long-term perseverance, which makes many people envy them. Joy watched the whole interview and sighed: "My bilibili account has not been taken care of for a long time. It's time to go back to my old business and continue to upload my campus life videos!"
Warm Tips: if you are interested in social media after watching the experience of these three students, you are welcome to try. However, please make sure to manage the effort and time for your studies and interests! We also welcome the interested students to join the TikTok group at Jiaxing Senior High School and work with students who have similar interests.