Written by: Gr. 11 Sheldon, Translated by:Gr. 11 Fiona
On April 30, 2021, the Terry Fox Running activity began on the playground of Jiaxing Senior High School. This was not only a feast for Chinese-Canadian connections, but also a vision of the fate and future of Jiaxing BCOS students. 
Terry Fox was the founder of the "Marathon of Hope". He was born in an ordinary family in Canada. At the age of 18, doctors diagnosed him with bone cancer. He was a high-spirited teenager who later had his right leg amputated. Even though God played an unfair joke on the boy, he kept up his courage. In 1980, Fox attempted to run from the eastern end of Canada to the western end of Canada while wearing a prosthetic. It took him 143 days to complete the race, while raising a whopping 24 million Canadian dollars for bone cancer research. In memory of the runner, teachers and students from Jiaxing Senior High School BCOS held a charity run to bring attention to cancer research. 
Students and teachers started to prepare for the run as early as a week prior. Each Speak-Up Team was asked to design a T-shirt and slogans and upload them to different platforms to get attention. Through the joint efforts of the students, a lot of wonderful art pieces were made. At the same time, we also raised money through donations, and every student actively participated in it and made a great contribution to it.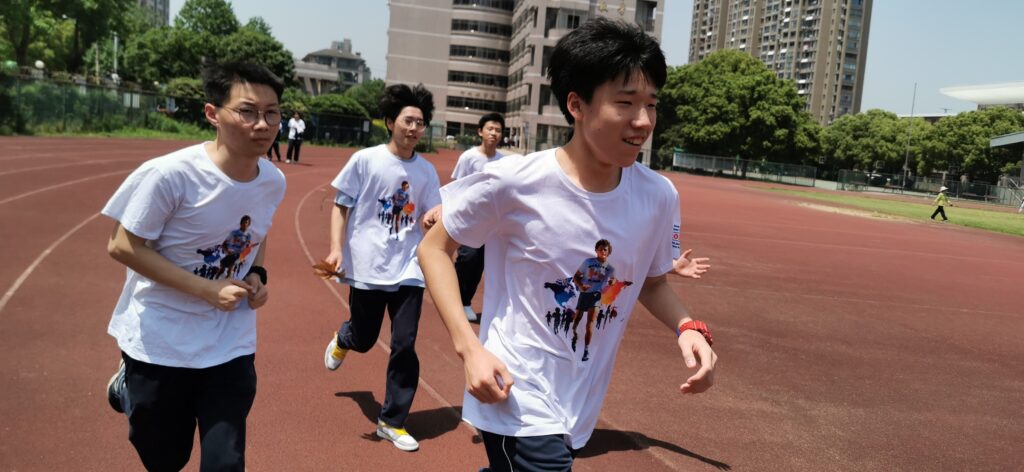 All the students and teachers gathered on the track of the playground on the day of the activity. The students in the playground were wearing the same clothes, which were the Terry Fox shirts specially designed by the teachers to commemorate the event. The image of Fox on the shirt seemed to show us what perseverance and tenacity really are. As the early spring sun shone through a blue sky, the run began. With a loud whistle, the students in the front row of the team took the lead, rushing to the first curve. And the students in the back row also kept up with the rhythm of the front. The uncompetitive game was unfolding as one student after another ran past the teacher's camera. They moved forward with great strides, despite the sweat streaming down their faces, but in their hearts, there was still the fervor of going forward. 
The story of Terry Fox inspired every student at Jiaxing BCOS. He taught us that we should not bow to fate no matter what. Even cancer, with its long history over the course of human existence, will be conquered sooner or later. So please, extend a hand, not only for others, but also for yourself. Let us run together!