Star student G10 Lynn 
Written by Gr. 10 George, Gr. 10 Martina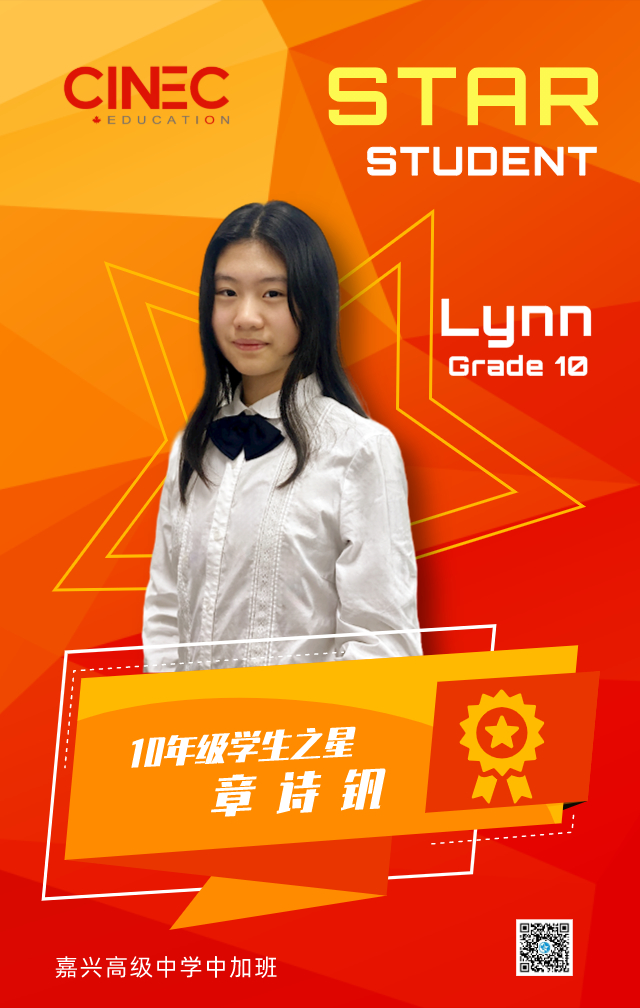 With the arrival of the new school year, many excellent students joined the big family of BCOS. A Star Student of this semester, Lynn comes from Grade 10. Even as a freshman who had just joined BCOS, she stood out with her excellent adaptability and learning ability. She has taken an active part in various activities and clubs at school. She not only joined the newspaper club but also the basketball team, and in every club she shines. She is also a friendly monitor for the class, getting along well with her classmates and patiently explaining the topics to them. In my spare time, I can often see her carefully teaching. "I also benefit a lot from teaching my classmates," she has said, "I get a deeper understanding of knowledge, and I can think more clearly while teaching others." 
She said, "I really enjoy the process of learning with my classmates." Lynn usually knows the tricks of the student trade. First of all, she will write down some simple notes in class, so that she can master the general knowledge points. She can review and add to them conveniently and comprehensively after class or before the exam. Especially concerning vocabulary, Lynn uses images to deepen her memory and grasp more knowledge.
 She is not only outstanding in study, but also well-rounded as a star student should be. After class, she is a girl who loves sports. She was active in the school basketball club and took boxing lessons outside of class. She found that these colorful activities not only gave her a way to relax, but also make her spirit stronger. The combination of work and rest allows her to be more engaged in her studies This is Lynn, a beautiful and lively girl in Grade 10. She is G10 students' spiritual idol. She said, "I will be friendlier and get along with my classmates. I will help students to understand the content at the same time, and also be a role model to make the team get better." 
Star student G11 Alice
Written by Gr. 11 Walter, Gr. 11 Jim
By the end of last semester, many excellent students shone in this first semester. BCOS and CINEC have awarded star student status to the most outstanding student in each grade. In this semester, the star student was Alice. As being a president of student union, she has organized many large activities, and this helped BCOS win honor. In the process of organizing, she united students of different grades with her tolerance and friendliness, showing extraordinary leadership potential. In addition to school activities, Alice also actively participated in various extracurricular activities, such as dance and business simulation competition.
In fact, Alice was also very surprised when she learned that she was recognized the Star Student. During the application, she made active and intense preparations, it was something that made her feel very fulfilled but she knew there were other strong students as well. She is serious and responsible about her studies and actively organizes and participates in school activities. She put her heart and soul into study, life and the work of the student union. She took the award as a reward for her hard work and study, inspiring herself to make progress. Alice also said that being the Student Star was her honor. Winning this award shows that her efforts have been seen. In the future study and life, she will be even stricter with herself to make herself more excellent. 
She said,"I believe that as long as I work hard and take everything in life seriously, I will be rewarded. I want to say thank you to my classmates, because we have been in the same class for a year and a half, I am very grateful to them for their help in my study. I can learn something from everyone. I think they are all very good students. I hope they won't be discouraged and will succeed next time. What doesn't kill you makes you stronger. The selection requirement of the star students is the overall development of the students. I like serious study and work in school, and I also like public welfare activities outside school. I don't see it as an attempt for honors, I see it as a workout. I think it's worth it as long as you don't regret anything. Every time I make a contribution to the school, I feel it is worth it. Every time I surpass myself, I feel worth it. Actually, I was a little flustered because I was very competitive. I used to care about every result, but after entering high school, I paid more attention to the progress of everything. I didn't feel very nervous before the results came out. If I can be a star student, I will do well in my future study." 
After interviewing a series of questions, we know that Alice would spare time to help herself with her study problems in addition to the tedious school affairs. Now she has achieved a good score of 92.5% on average in all courses. Jiaxing BCOS is  operating more smoothly and maturely, under Alice's administration of student affairs. Students can communicate with Alice in their spare time. She is very friendly. We believe that you will gain a lot when you communicate with such excellent students! 
Star student G12 Ian
Written by Gr. 11 Vincent and Gr. 11 Stella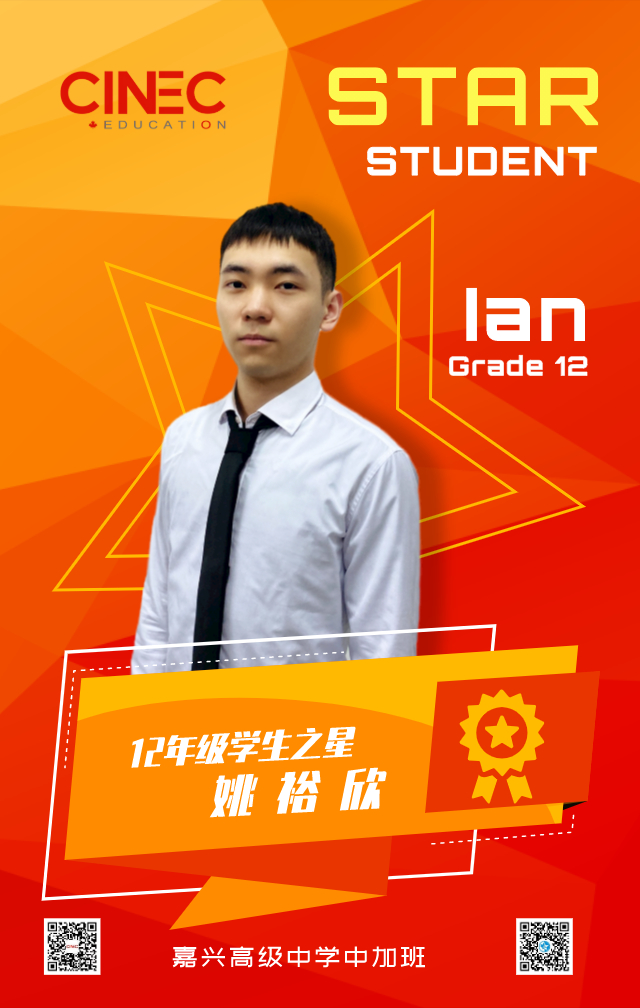 At the beginning of the New Year, new stars emerge, and this year's senior star student is Ian. Even in spite of the heavy study load in the third year of high school, Ian still maintained excellent academic performance and actively participated in and led various activities of the school, such as the school's dance class and newspaper, to help others and enrich himself. 
As a high-achieving student, Ian has his own understanding of learning methods. Unlike regular method of just working hard, Ian feels that the extracurricular activities and subjects studied are not inversely proportional to the quality of the work in class. "The efficient use of time is far more effective than anything else," he says. At the same time, he is also good at dealing with the pressure of study. He never lost confidence due to one or two setbacks, on the contrary, he will let himself relax moderately to avoid weariness, and then with high morale and enthusiasm meet the difficulties again. 
As a Grade 12 student, Ian has a wealth of leadership experience. He has been the monitor for two years and the secretary general of the Student Union for one year so that he can learn and improve himself constantly. Cooperation and humility are his bywords. When he receives a task, he always actively seeks advice from teachers and classmates to learn about the activity and make perfect preparations. When making decisions, he always negotiates with others and never goes his own way. He gives full play to the advantages of a team, obtains effective and feasible decisions through communication, and then solves contradictions and problems through reasonable division of labor. When he encounters conflicts, he chooses to communicate with his peers to solve the problems rather than avoid them. 
Behind his credentials as a high-achieving student and leader, he is still a big amiable brother and a cool hip-hop boy. He is ready to help others, is the teacher's reliable assistant, and strives for everyone to gain infinite happiness. The dance class led by him appears frequently in every major festival, stirring up the audience.