Hi, Jiaxing on the other side of the world,
How are you guys doing?
Half of this semester has already gone away, and I believe you guys are receiving your Term 1 report cards. How was it? I'm also having a busy time getting my mid-terms back and preparing for the finals at the University of Alberta, too.
University has been wonderful and gradually the second home of mine. On the first day stepping off the plane, I immediately knew that I would fall in love with this city in green and gold. Hanging out around before the start of this semester, I got to learn a bit about the school and its people. I got to know and make a lot of friends from all over the world. We wandered around to explore the campus, cook together to share foods from each other's homes, and later on supported each other through stresses and tough times. They helped me a lot to quickly get used to this new environment. They are the people that encourage me to step out of my comfort zone and to fearlessly face the challenges. One of my professors said that we are going to make life-long friends in university, and I think he is definitely right.
I've also joined a few clubs and students' associations. Most of them were from the club fair on the welcoming week before classes start. I decided to continue playing ultimate frisbee and being a first-aid responder and trainer. They have become an important part of my life that I could never stop doing. Though my course load is pretty heavy, I still tried my best to fit these weekly sessions and practices into the weekends. There, I get to know people in different years and faculties, participate in various events, and contribute to my community. Also, not every club is that serious. There is one that holds sharing circles for people to drop in, share whatever's upon their minds and get relaxed. My faculties also have various activities to support the stressed-out kids. I love the way people here were nice and polite, and also this inclusive sense of community. These all allow me to continue my passions and contribute to what I believe while keeping myself physically and mentally healthy.
University has been everything I've ever dreamed of, but colder and harder. Weather is the very first challenge that I have to overcome. Edmonton is way too dry than that back home, and the winter hits me too soon before I ever got prepared. Coldness hasn't brought too much trouble yet, but the wind is the one that's most likely stopping me from going to morning classes. I could never imagine my skin and face hurting like the wind is cutting through them before coming to Edmonton. But it all got better after my local friends taught me about a "Winter Survival Guide" and now I just need to get used to the switches between indoor and outdoor temperatures (which are about 40 different right now!!).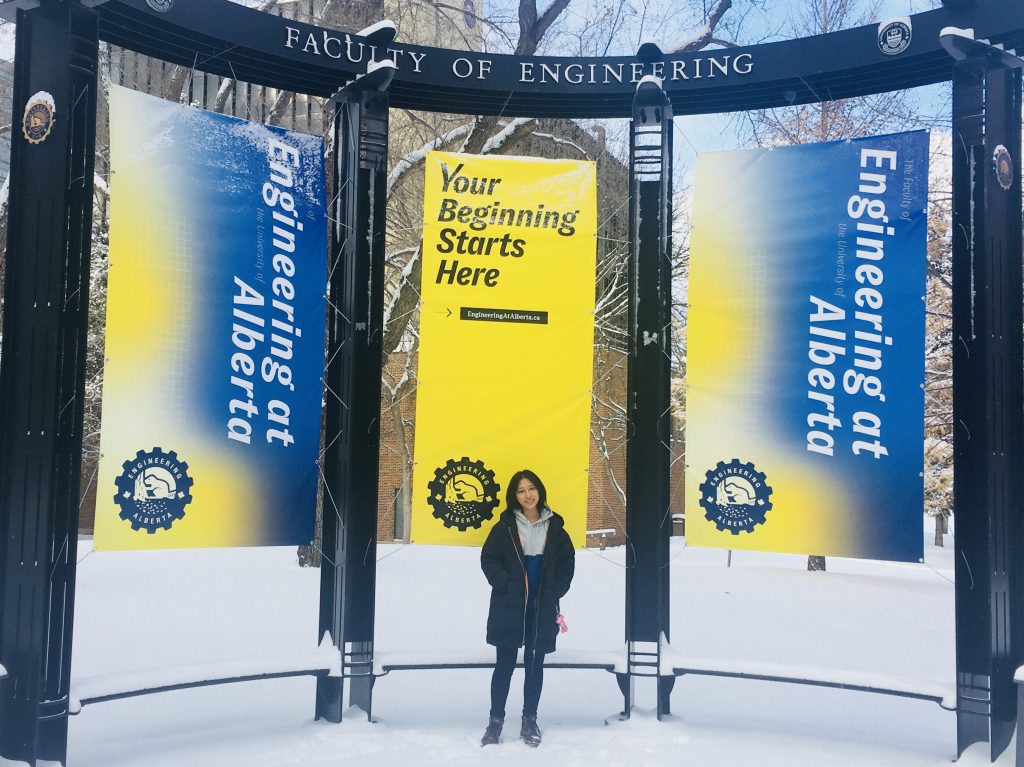 Then, I have to say university is way harder than high school. There is no such course or major that is considered "easy". There are always people that are super smart and trying super-duper hard. And the libraries are always 24/7 opening for students. As an engineering kid with extra course loads than others, I had a pretty tough time in the beginning. It was hard to follow the fast pace if not preparing ahead, especially when having a professor with a heavy accent in a course that I'm not good at. Once I fell behind, I found it extra hard to catch up again, as every lecture cumulates on the previous ones. It took me a lot of effort to convince myself that I am capable of doing all these, and it was even harder to find my own proper way to study. Now when everything eventually gets better and on the right track, I sincerely appreciate my family, friends and the staff in my faculty that have helped me and supported me. I feel so lucky that I have someone to talk to and someone to call when things all collapse down on me. Now after all these, I feel myself is more determined and passionate than ever. I love engineering more than ever.
So, my fellow Grade 10s and 11s, please, take as much effort to try hard and explore your passions. And my dear Grade 12s, I wish you all receive the offer you've been dreaming of and go on to something you would love from the bottom of your heart.
Best regards,
Vicky Shao
In Edmonton